Epson WORKFORCE ENTERPRISE WF-C20590
The professional WorkForce Enterprise inkjet printer combines ultra-fast performance with low power consumption. Designed to print high-volume tasks, this professional and eco-friendly multifunction printer offers excellent print quality at extremely high speeds of up to 100 ipm.


High speed
Discover excellent quality at incredibly high speeds. Enjoy seamless and consistent image quality of 600 x 2400 dpi and print speeds of up to 100 images per minute simplex and duplex, which equals, and even exceeds, most laser printers. Take advantage of a first page printing time up to 1.5 times faster and a printing time 2.5 times faster for typical office printing tasks compared to a laser printer or photocopier 1 .


Reduce the environmental impact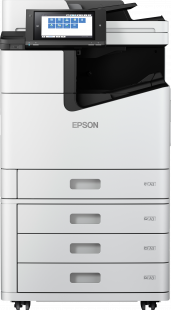 It uses up to 88% less energy compared to laser printers 1 . With consumables that generate little waste and a very simple work mechanism, the WorkForce Enterprise reduces the environmental impact of printing, thanks to its low energy consumption solution with fewer consumables. Enjoy a high paper capacity of up to 5,350 sheets and print up to 100,000 monochrome pages, or 50,000 in color, without replacing inks.


Quality without giving up anything
Increase productivity without sacrificing quality with this multifunction printer. The combination of Epson's PrecisionCore inkjet printhead technology, liquid inks and the efficient paper drag mechanism translates into a printer that exceeds all expectations.


Advanced integration to optimize workflow
A wide range of software solutions, from remote control to accounting and Follow Me solutions, that are intricated in your current IT infrastructure to improve productivity and increase efficiency.



Main characteristics
Extremely fast: Up to 100 ipm and high speed double-sided scanning
High reliability: Simple and elegant mechanism for those environments in which inactivity is not an option
Large capacity: Prints up to 100 000 2

black and white or 50,000 pages in color without filling the ink
Reduce environmental impact: Use 88% less energy compared to laser printers 1
Ideal for the company: Benefit from a wide range of software solutions
---