BodyPlanet t-shirt
The cool shirt
Would you like to have X-ray vision, like superheroes? With the Body Planet t-shirt you will surprise everyone. Do not take it off.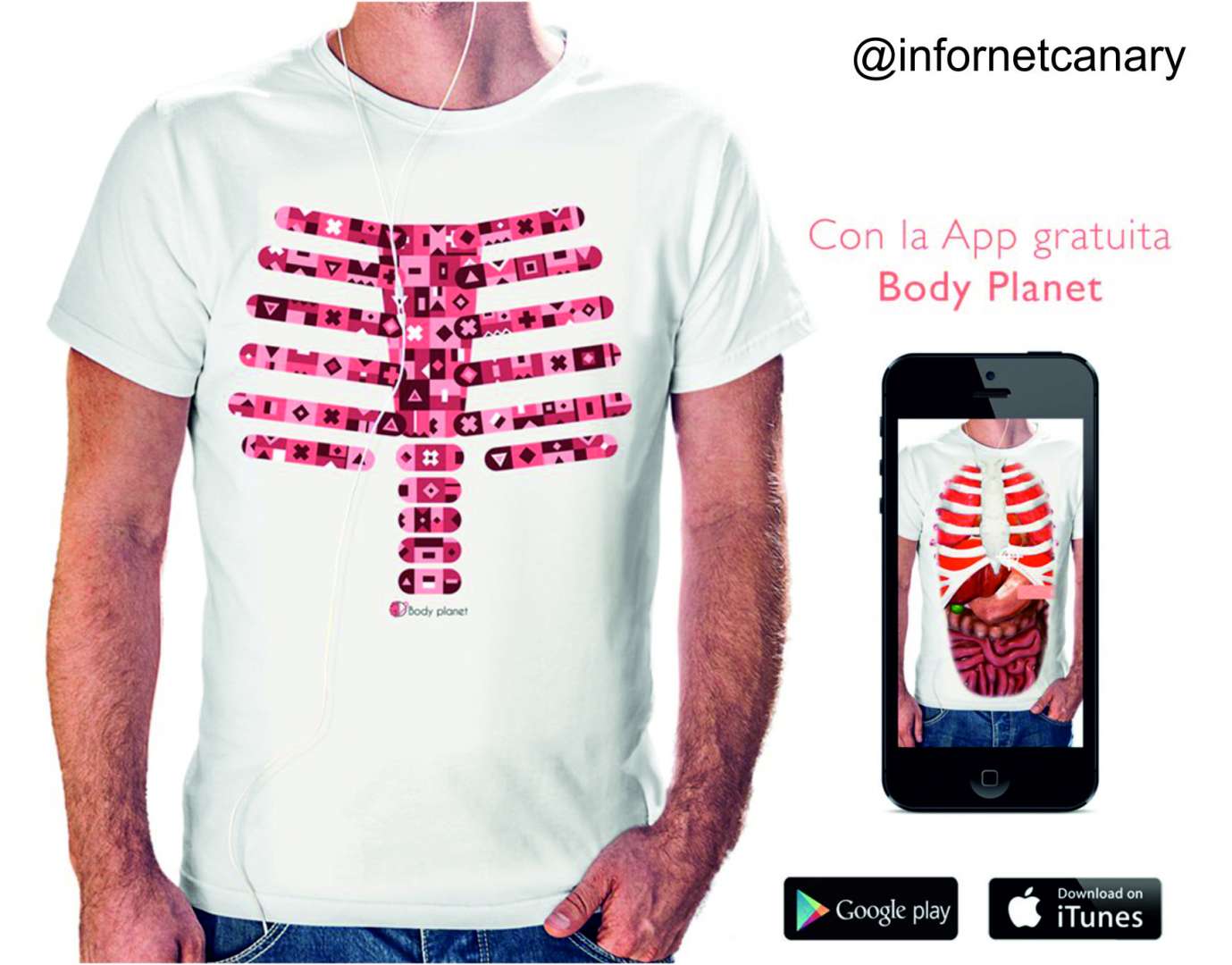 The shirt that teaches
Do you want to know the secrets of the human body? Discover how you are inside, challenge your friends and play as a family. Only for the curious
Your interior to life size, in three dimensions, with movement and real appearance.




| | | | | | |
| --- | --- | --- | --- | --- | --- |
| | | | | | |
| Download the app and open it on your mobile or tablet. | Put your friend the coolest shirt. | Focus with your device to the shirt and flip. | Discover and hide organs and systems. | Explore: search and learn the names. | Now you: put on the shirt and pass the phone. |
Wear your shirt everywhere and wash it as much as you want.
Body planet works without an internet connection.





---


About the Body Planet t-shirt
Does the app cost? Where do I download it?
What parts of the body can I see?
It includes the following systems or devices and organs (the trunk part):
Bone: ribs, vertebrae ...
Muscular.
Respiratory: lungs, trachea, diaphragm ...
Circulatory: heart, veins, arteries ...
Digestive: stomach, intestines, liver, vesicle ...
Urinary: kidneys, urethra ...
Lymphatic: spleen ...
What are the side buttons of the app for?
With each one you can show or hide the different systems and devices, so you can explore them separately, as if they were layers.
How can I know the name of the organs?
Acciona the peephole and place it on the organ you want to know. In the settings button you can select the language, at the moment English or Spanish.
Is it really my body?
That is the question that we like the most. The image shows the size of your body, in three dimensions, with the natural movement of the organs and moves at the same time as your body: that's why its appearance is so real.
Can I wear the shirt as much as I want?
Of course! You can use the shirt like any other you have. Of course, you have to take care that you do not lose the drawing.
Can I wash it?
It's a 100 percent polyester shirt, so you can wash it in the washing machine. We recommend doing it in cold water or maximum 40º with neutral soap (never bleach).
Is there a shirt for everyone?
Insurance! We have all sizes, children (4/6, 8/10, 12/14 and 16 years) and adults (S, M, L, XL). It's more fun to play if you have several people.
Can I use Body planet if I do not have internet?
Indeed, once you have installed the application on your device, you can play without being connected to the internet all you want (as long as the battery lasts, of course). To download the app yes you need connection.
Does the application work on my mobile?
We have prepared the application for IOS and Android and you can install it on most brands and models of tablets and smartphones
In

iOS :

Iphone 5, 5s, 6, 6s, 7, 8, 8 Plus and X.
Ipad 4, mini 4, Air and Pro.

In

Android

There are countless devices. It works on terminals with Android version 4.4 or higher, in all those with ARM architecture and not in those of x86.
A trick : If you want to make sure, you can always download the free application first. Check that it is installed on your mobile, it opens and you see what the camera focuses on once you authorize it. Then it will work when you have the shirt.
If you still have questions, write to info (@) bodyplanet.es and we will tell you if it works on your device.
Does the app occupy a lot of space on my device?
Not calm. It does not reach 150 megabytes.
Will there be updates and new versions?
Yes, Body planet is in constant development. People who have the shirt can take advantage of new versions as we evolve. In version 1.2.0 (November 2017) we have renewed the interface and we have included the English language.
Are all the shirts white?
We are in full release and now they are all white. In the future we will incorporate more colors.
I am an innovative teacher, can I wear the shirts in the school / institute?
A great idea! But Body planet has a more complete line of material designed for educational centers, which you can see here Contact us to offer you all the information about these resources, the results of our pilot experiences and the special prices for schools and institutes. If you want, we can do a demonstration in your center.