EyeOn baby
Look what else you want, wherever you are.
21/11/2015














1-2-3 Installation
Unlike traditional baby monitor, the Baby EyeOn Camera comes with technology that allows viewing and control from smartphones, tablets or computers both at home and from work or where you are if your device has an Internet connection.
Before you start, check the box which contains:
EyeOn Babysit Baby Camera
Base
Roses Rings
Mounting Kit
Power adapter
Configure EyeOn Baby Camera is very easy ...
1. First choose which color you want for the camera and if it is pink you can easily remove the two blue rings moving in the opposite direction to clockwise and place the pink sense for clockwise. Then decide where you want to place the camera on the wall or on a table or shelf.
2.Conecta the camera to a power outlet and wait until the LED turns green. You can use the supplied power adapter or connect it to a portable USB battery charging 5V / 2A.
3. Search the App Store or Google Play free mydlink ™ app Baby. When you have downloaded in the first start you will access a wizard that will help the configuration step by step.
---
You have 3 ways to connect to your camera EyeOn
In remote when you're away from home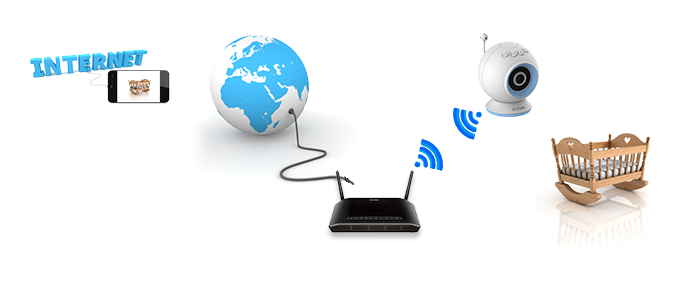 You will connect from any PC / Mac / iPhone / iPad / Android connected to Internet
At home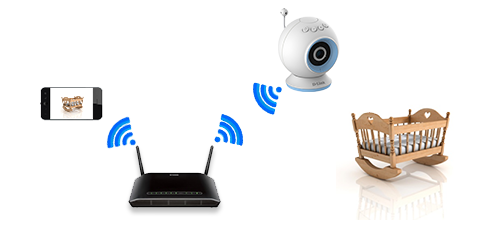 You will connect from any PC / Mac / iPhone / iPad / Android using Wi-Fi Your Home
... Or traveling ...
You will connect to Wi-Fi area generated by the camera